NSO Betsy L. Kent Youth Concerto Competition
Due to COVID-19, this year's auditions for the Betsy L. Kent Concerto Competition will take place via video submissions. Given the current circumstances, hiring an accompanist for video auditions is recommended but not required. Applications and payments are due October 15. Video submissions can be sent via dropbox, Google drive, or as an unlisted Youtube link to Mrs. Carolyn Fuhrman at carrie@fuhrman.org before the first of November. In the event of disrupted season programming, the orchestra will not be able to reschedule concerto performances. Honorariums will still be awarded in full to both winners.
Concerto Flyer 2020
NSO Concerto Competition Application Form (PDF form)
A non-refundable fee of $40 must accompany each application.
When paying by check, make checks payable to: Newark Symphony Orchestra
Click here to pay your application fee online. 
NSO is no longer accepting online payments. The registration deadline for the 2020 Concerto competition is past.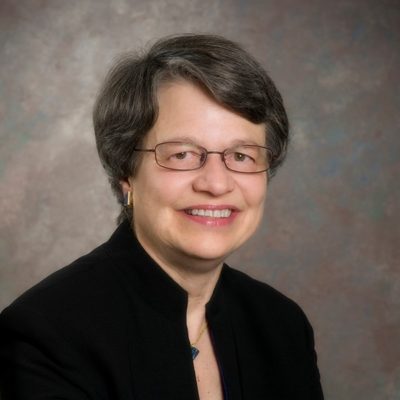 October 2019, the Newark Symphony Orchestra Annual Youth Concerto Competition was dedicated to our dear friend and colleague, Betsy L. Kent. Betsy filled numerous roles during her many years associated with the Newark Symphony Orchestra and the Newark Symphony Chorus. She was a reliable and smiling presence, happy to step in and help in any way needed. Betsy served on the Newark Symphony Orchestra Board of Directors and was one of the original organizers of the Newark Symphony Chorus serving as Chorus Master, rehearsal accompanist, and membership chair. She conducted several Newark Symphony Chamber Concerts, as well. On the NSO Board, Betsy was a valued member of the NSO Program Committee. Her main passion, though, was Education & Outreach. In that capacity she was responsible for making our Youth Concerto Competition a regionally sought after prize. We will miss you, dear friend.
2019 Concerto Competition Winners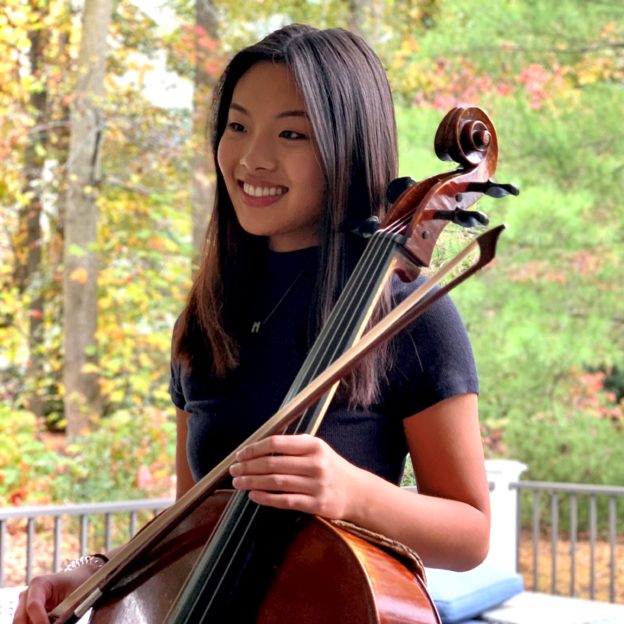 Cellist Maxine Chou, age seventeen, is a junior at Wilmington Friends School. She began studying the piano at age five and cello at age eight with Jennifer Stomberg. Maxine has also studied with Amy Barston and Joann Whang. From 2014 to 2018, Maxine was a member of the Delaware Youth Symphony Orchestra and Delaware Youth Soloists. Currently, she is a member of the Philadelphia Youth Orchestra. Maxine is enrolled in the Honors Program and the Certificate Program at the Music School of Delaware. Maxine is a recipient of the Peter H. Flint (2018) and the Anthony "Tony" G. Simmons (2019) Merit Scholarship Awards. In 2018, Maxine performed at Carnegie Hall as a winner of the Elite International Music Competition. Last March, she performed as a soloist with the Wilmington Community Orchestra after winning first place in the senior division of the Delaware Concerto Competition for Young Musicians. Maxine is also a frequent performer for Pacem in Terris, a nonprofit organization that uses the arts to promote peace. For the past three years, Maxine has tutored an adult cello student. In her spare time, she enjoys fashion, travel, and spending time with her family and friends.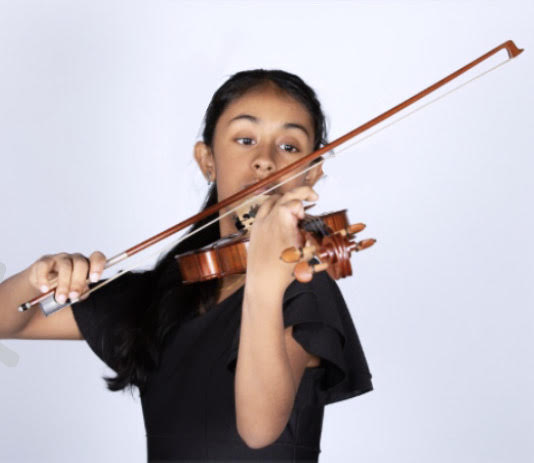 Vibha Janakiraman, age 14, began her violin studies when she was 6 years old. She currently studies with Catherine Cho at the Pre-college division of the Juilliard School, and previously studied with Lee Snyder at Settlement Music School. A 9th grader at the PA Leadership Charter School (PALCS) University Scholars Program, Vibha has performed in reputable venues such as the Kimmel Center, Carnegie Hall, the Mann Center for the Performing Arts, the Met Philadelphia, and the Lincoln Center. Vibha made her orchestral debut at the age of 11 with the Wilmington Community Orchestra as a winner of the 2017 Delaware Concerto Competition for Young Musicians. In the 2019-20 season, she will be appearing as a soloist with the Ambler Symphony and the Main Line Symphony as the winner of their concerto competitions.
Vibha is the violinist of the Gray Charitable Trust Advanced Study Scholarship Piano Trio coached by Sandra Carlock at Settlement Music School. She has also been a member of the PMAY Arts Initiative since 2017, and attended the 2019 Young Artist Summer Program at the Curtis Institute of Music. Aside from playing the violin, Vibha's interests include playing Indian classical music (violin), learning Sanskrit, Math, Composing, and Penguins.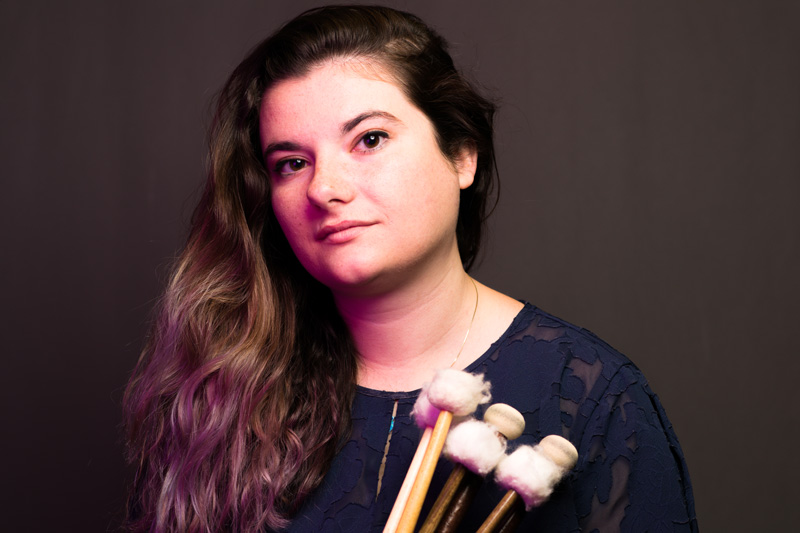 Christine Walthers is a first year graduate student at the University of Delaware, where she studies percussion performance. She received her B.M. in Music Education in the spring of 2019 from the University of Delaware as well. Christine currently serves as the principal percussionist in UD's Wind Ensemble, and has also performed with their Symphony Orchestra, Symphonic Band, Percussion Ensemble, and Steel Band. She has gone on tour with the Symphony Orchestra to China and the Wind Ensemble to Spain. Christine is the studio graduate assistant to UD's percussion studio, and the teaching assistant for the steel band. During her time at UD, she has studied under Harvey Price, Orlando Cotto, and Kristian Paradis. Christine has been studying percussion for almost a decade, and her favorite percussion instruments include the steel pan and timpani. After college, she hopes to teach percussion and steel band at the collegiate level.
2018 Concerto Competition Winners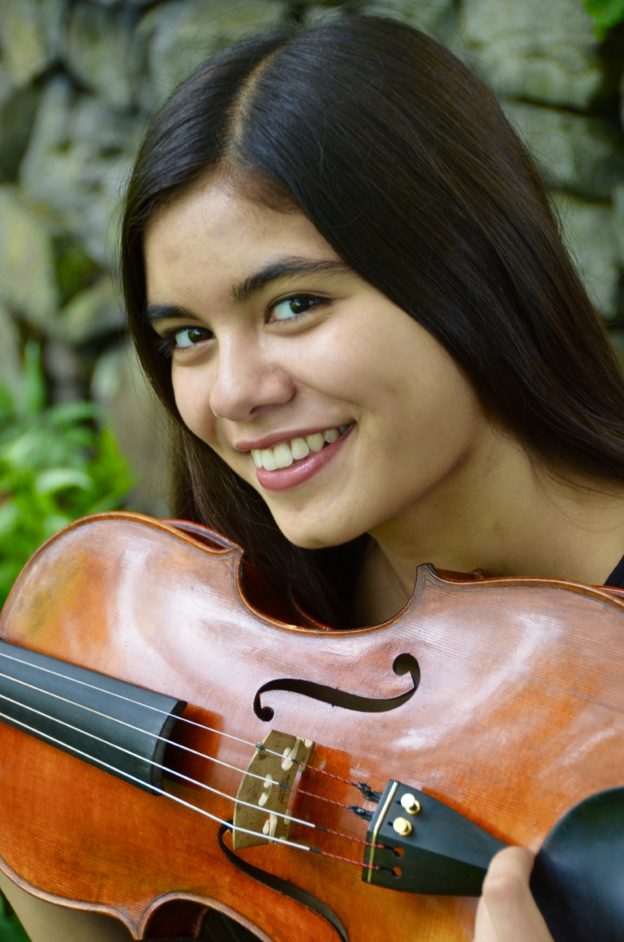 Juliana Castillo , 16, studies viola under Shelley Beard Santore at the Music School of Delaware. She began playing violin at 4, studying with Julianne Murphy Ruiz, and has been playing viola for three years. She is the assistant principal violist of the Philadelphia Youth Orchestra, a Music School of Delaware Merit Scholar, and violist of the Gabriel Braverman String Quartet, a Settlement Music School Advanced Study Scholarship Program ensemble coached by the former associate principal violist of the Philadelphia Orchestra, Sidney Curtiss. This summer, Juliana attended the Perlman Music Program Summer Music School.
Juliana received the Coastal Concerts Music Scholarship in 2018. She performed with the Wilmington Community Orchestra as winner of the Delaware Concerto Competition for Young Musicians (junior division) in spring of 2018 and with the Ambler Symphony as a 2018-19 Elmer and Louise Menges Scholarship recipient in February 2019.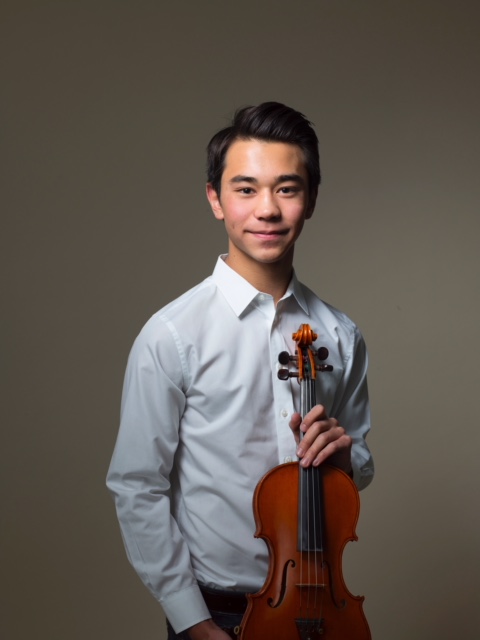 David Clarke, violin. Born in Newark, Delaware, David is a junior at Radnor High School. On Saturdays, he attends the Manhattan School of Music (MSM) Precollege program as a student of Anat Malkin Almani. He has attended many summer festivals, including Aspen Music Festival, Bowdoin Music Festival, and Summit Music Festival, where he studied under Herbert Greenberg and Victor Danchenko and collaborated with Emil Chudnovsky, Kyungok Park, and Yoni Levyatov. David won many competitions and performed in major venues including Carnegie Hall, Kimmel Center and Lincoln Center. In April, he will perform in Carnegie Hall Stern Auditorium as principal second of MSM's Philharmonic Orchestra in Manhattan School of Music's Centennial Gala. David currently participates in a trio as part of the Advanced Study Program of the Settlement Music School on full scholarship, preparing and performing contemporary works by Jennifer Higdon, David Ludwig, and Paul Schoenfield.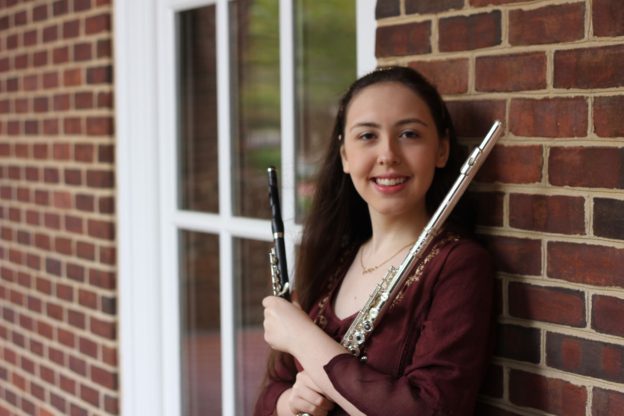 Genevieve Hahn is a senior flute performance major and voice performance minor at the University of Delaware, where she studies flute with Professor Eileen Grycky. At the university, Genna has fulfilled the positions of principal flute or piccolo in the UD Symphony Orchestra and the UD Wind Ensemble. In 2017 and 2018, she was the Delaware representative for the Eastern Division of the MTNA Young Artist Woodwind Performance Competition, and she won the DSMTA Award at UD for Outstanding Performance in 2017. Genna has performed in master classes with Erica Peel, Gary Schocker, Greg Patillo, Amy Porter, and Katherine Hoover. Genna studied with Melinda Bowman at the Music School of Delaware. In her vocal pursuits, Genna won the Greater Philadelphia National Association of Teachers of Singing Adult/College Musical Theater Competition in 2018. She is a member of four honor societies, including Pi Kappa Lambda Eta Chi Chapter and Phi Kappa Phi.
2017 Concerto Competition Winners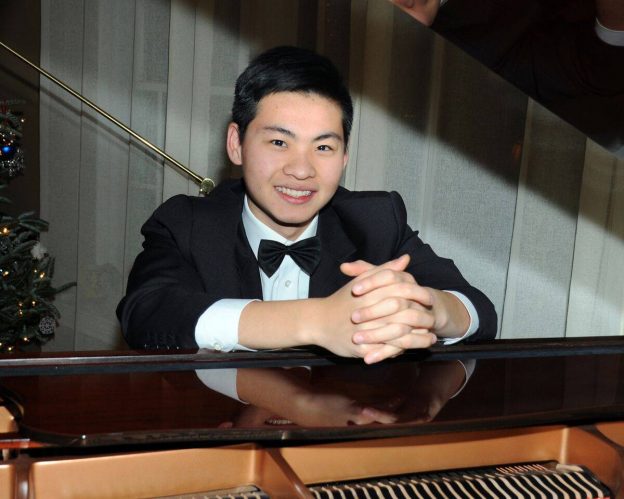 Jonathan Duan is a native of QingDao China where he began piano lessons at the age of four. He has won many prestigious awards and competitions including The First Great China Area Youth Arts Festival in 2007; second place in the Internationaler Deutscher Irmler-Klavierwettbewerb in 2013; and The Dandelion Selective Activity for Youngster's Outstanding Artistic Stars in 2013 sponsored by SrikDu.
In 2015, Jonathan came to America to study English at Tall Oaks Classical School in Bear, DE. He is sixteen years old and currently a sophomore. Since arriving in the states, Jonathan has studied piano under Akiko Turley, Dr. Erickson Rojas and Lotus Cheng.
He is currently enrolled at the Wilmington School of Music.
Most recently, Jonathan was awarded the inaugural Samuel Hsu Piano Scholarship to attend Chamberfest at CSEHY Summer School of Music.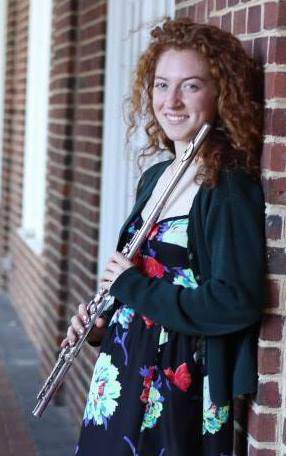 Alison Hoffman is a senior Music Education major at the University of Delaware. She studies with Eileen Grycky, flute professor at UD. At UD, Alison has been a member of Symphony Orchestra, Chamber Orchestra, Wind Ensemble, Symphonic Band, multiple chamber groups, Flute Choir, Marching Band, and Pep Band. Outside of performing, she also enjoys teaching private lessons to students who have ranged from ages 8 to 70.
Last Spring, Alison won the Murray Panitz Memorial competition of the Flute Society of Greater Philadelphia and performed Olivier Messiaen's "Le Merle Noir" on a winners recital at the FSGP Flute Fair. She has performed in flute and piccolo masterclasses with Amy Porter, Sarah Jackson, Katherine Hoover, Alice K. Dade, and Lois Herbine. Alison won the UD Music Department Jefferson Award to spend a week studying with Jeffrey Khaner, principal flutist of the Philadelphia Orchestra at the Curtis Summerfest last summer.
After a full semester of student teaching elementary and high school band this spring, Alison hopes to pursue a masters in flute performance starting in the fall.
2016 Concerto Competition Winners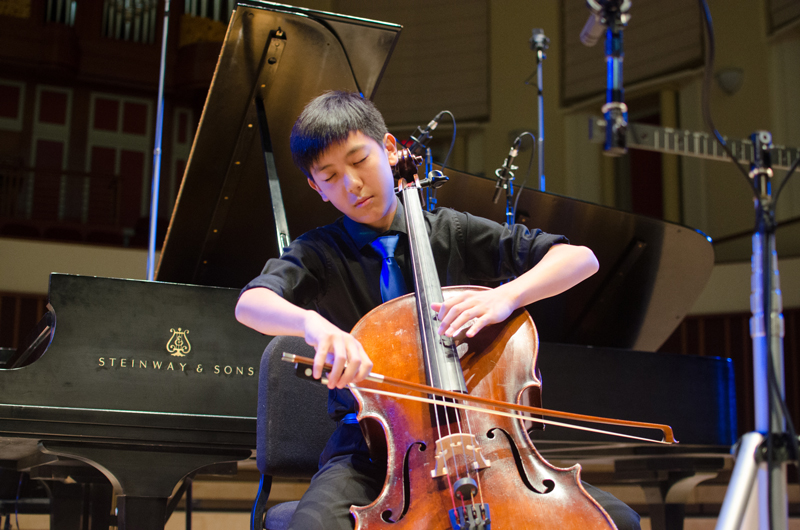 Isaiah Kim is a 15 years old cellist from Wallingford, PA. He debuted with the Philadelphia Orchestra at the age of 11 as a winner of the Children's division of the Albert Greenfield Student Competition. Isaiah has won numerous concerto competitions during his young musical career and has performed as a soloist with the Warminster Symphony, the Bucks County Symphony, the Old York Road Symphony, the Ambler Symphony and Temple University's Youth Chamber orchestras. Isaiah was also the first place winner in the junior strings division of the Tri-County Youth Festival and in March, 2014 Isaiah took top honors as the national winner at the MTNA National competition in Chicago, IL. Isaiah was recently featured on NPR's "From the Top", a national radio broadcast, as a soloist performing live at the Schwartz Center for Performing Arts at Emory University in Atlanta, GA.
Isaiah has been studying the cello for eleven years and he currently studies with Priscilla Lee of the Philadelphia Orchestra. He is a member of the Youth Chamber Orchestra at the Temple University Music Prep's Center for Gifted Young Musicians. Isaiah attended the Meadowmount School of Music, the Heifetz International Music Institute, the Harpa International Music Festival in Reykjavík, Iceland, and the Perlman Music Program. Isaiah has performed at master classes with Ronald Leonard, Hans Jensen, Lynn Harrell, Peter Stumpf and Timothy Eddy and has performed at numerous concerts in Philadelphia and the surrounding suburbs. Isaiah is a sophomore at the Strath Haven High School and when not playing the cello, he loves to sing and enjoys playing soccer, basketball, and ping pong. Isaiah plays a John Juzek cello made in 1939, generously loaned to him by the Carlsen Cello Foundation.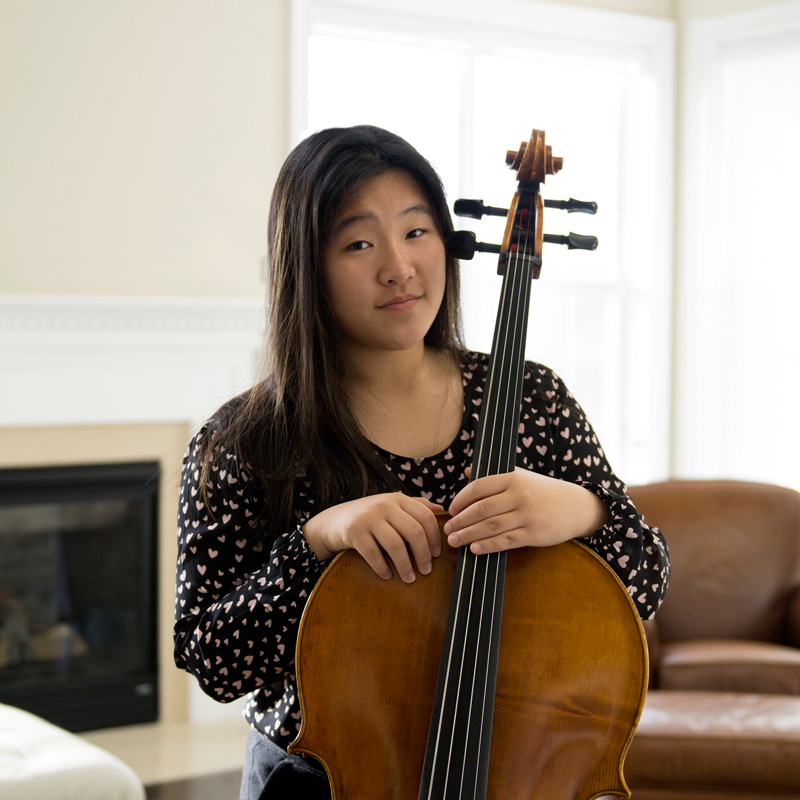 Cellist Sabine Jung, age 16, is a sophomore at Unionville High School. She is currently under the tutelage of Priscilla Lee, associate principal of the Philadelphia Philharmonic Orchestra. Her former teachers include Dr. Mira Kang and Dr. Tomasz Rzeczycki. She started playing the cello at age eight but began her musical studies at age five with piano lessons.
Her honors and achievements for cello include High Honors in the New Jersey Music Teachers Association Recital Auditions in 2012. Sabine was a participant of the Central New Jersey Regional Intermediate Orchestra (CJMEA) and the New Jersey All-State Intermediate Orchestra (NJMEA) in 2013. She performed in a master class in 2013 with Jonathan Spitz, principal cellist of the New Jersey Orchestra. During 2014, Sabine attended the Philadelphia International Music Festival (PIMF) and received third place for the Kennett Symphony Junior Instrumental Competition for Young Artists.
Ms. Jung is also an accomplished pianist. She was a first place winner in 2012 for the Crescendo International Competition and a second place winner in 2013 for the Golden Key Festival. For both of these competitions, she has performed at Carnegie Weill Recital Hall in New York City.
Sabine's achievement continued in 2015 as a member of the Philadelphia Young Artists Orchestra (PYAO); she received 1st place for PYAO's first annual concerto competition and performed as a soloist with the orchestra in Kimmel Center. Ms. Jung also won the Southeastern Pennsylvania Symphony Orchestra (SPSO) Young Artists Competition and played with the orchestra, and won first place for the Kennett Symphony Junior Instrumental Competition for Young Artists. Additionally, Sabine received an honorable mention in the Lansdowne Symphony Orchestra (LSO) Young Artists' Competition and represented her middle school at the District 12 Pennsylvania 7/8th Grade Stringfest.
Ms. Jung expanded her orchestral experience by joining the Philadelphia Youth Orchestra (PYO) for their 2015-2016 season and by being selected to attend the inaugural year of the National Youth Orchestra 2 organized by the Weill Music Institute of Carnegie Hall as principal cellist. Sabine also received 2nd place for the Tri-County Concerts Youth Festival Competition in the Senior Division in 2016.
Currently, Sabine is associate principal cellist of PYO's 2016-2017 season. She received 1st in the instrumental division of the Pottstown Rotary Club's 7th Annual Performing Arts Competition and accepted a musical scholarship. Sabine also won the Newark Symphony's concerto competition and will perform with the orchestra in May 2017. She will also perform in PMEA District 12's concert as 2nd chair.
In her free time, Sabine enjoys playing with her dog, Pompom. She is an honor roll student involved in multiple clubs, including student council, the student newspaper, the Interact club partnered with the Longwood Rotary club, and Tri-M Music Honor Society. Sabine also loves to volunteer by playing cello at the A.I. Dupont children's hospital.
2015 Concerto Competition Winners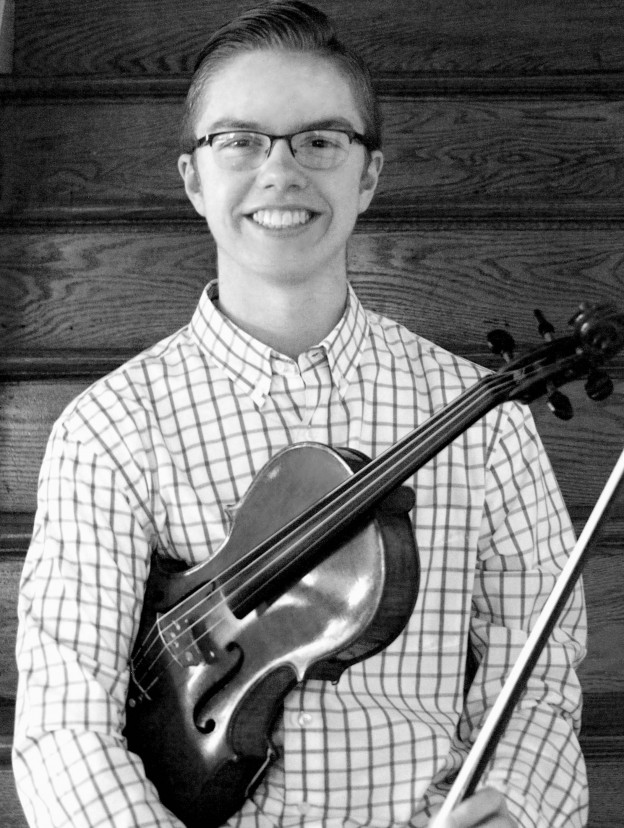 Conor McAvinue, viola/violin, is sixteen and a junior at Archmere Academy. He began playing the violin at the age of four and started playing the viola three years ago. Conor has been studying both instruments with Ms. Shelley Beard at the Music School of Delaware. He is also an Honor's and Certificate Program student at The Music School of Delaware. Conor is a member of the Philadelphia Youth Orchestra and is in the Advanced Studies Program at Settlement Music School where he receives a full scholarship to study chamber music with former Philadelphia Orchestra member Sidney Curtiss. In 2013-2014, Conor was the concertmaster of both the Delaware Youth Symphony Orchestra (DYSO) and Delaware Youth Soloists, the advanced ensemble of the DYSO. He was the principal violist of both the Delaware All State Orchestra in 2015 and the Delaware Honors Orchestra Festival in 2014. Conor won the Delaware Concerto Competition for Young Musicians at the Music School of Delaware in 2014 and 2011 and was also awarded the Estella Hillersohn Frankel Award Recipient in 2014 and 2012. Conor is also part of the Archmere Academy Mastersingers, one of the top ten high school choirs in the nation. When Conor is not playing his viola or violin, he likes to spend time playing basketball, photography, watching movies, and spending time with his family and friends.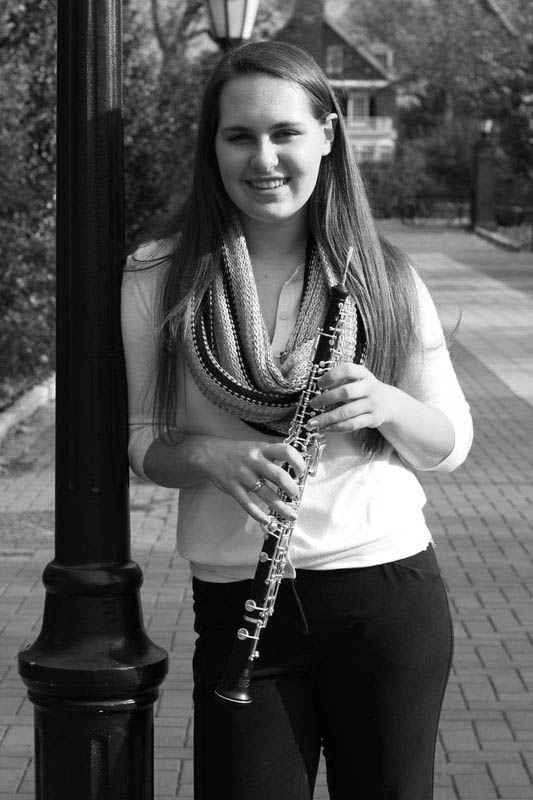 Laura Yawney, Oboe, a twenty-year-old native of Clarksville, Maryland pursuing a Bachelor of Music degree in oboe performance at the University of Delaware. She has been very involved in performance since her freshman year and has served as principal oboe in the UD Symphony Orchestra, Chamber Orchestra, and Wind Ensemble. She is also a member of Nota Bene Winds, a woodwind quintet that performs throughout the state of Delaware. In addition, she is a member of the Con Pepe Trio, a competitive woodwind trio that has been named a finalist in the Music. Teachers National Association's chamber music competition. Last summer, Laura attended the Eastern Music Festival in Greensboro, North Carolina. Under the tutelage of Karen Birch-Blundell, Laura studied and played such major orchestra repertoire as Strauss' Alpine Symphony, Mahler's Symphony No. 7, and Bartók's Miraculous Mandarin.
Beginning her oboe studies at age ten, Laura spent her high school years playing in various orchestras, including the Peabody Youth Orchestra and the Maryland All-State Senior Orchestra. She has studied with Barbara Girdler, Lloyd Shorter, and is currently studying with her principal teacher, Jeffrey O'Donnell.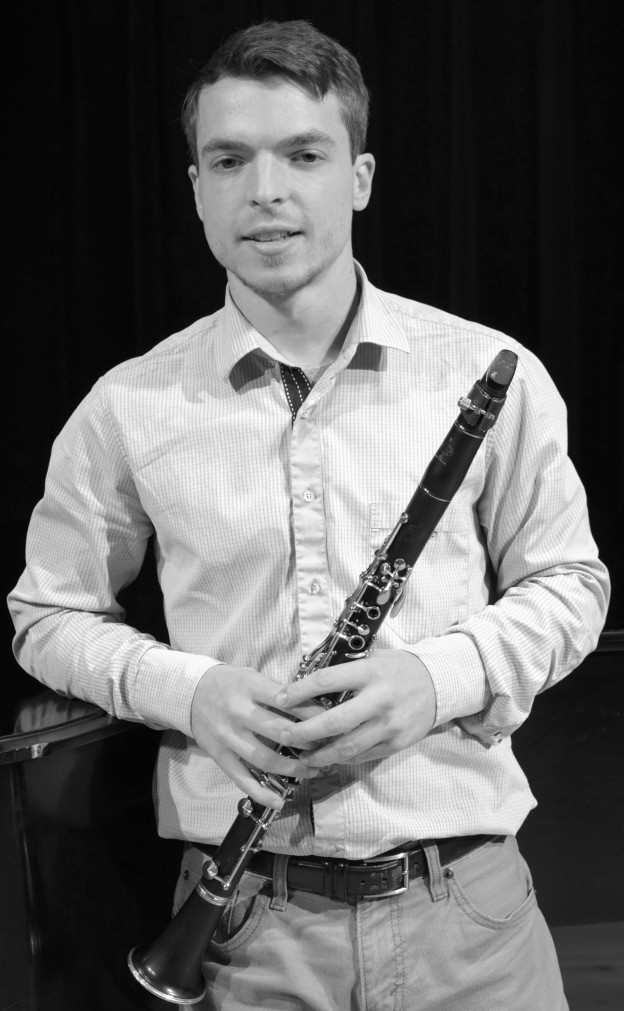 Woodwind specialist Casey Wilkes originates from Pine, Colorado. A dynamic and adventurous clarinetist, Mr. Wilkes' repertoire includes diverse selections from every period and genre of music. He enjoys a demanding performance schedule and was recently selected as the winner of the 2015 University of Delaware concerto competition and is a Delaware representative for the Eastern Divisional Music Teacher National Association Woodwind Solo competition. Among his greatest musical influences he cites Frank Zappa, Dmitri Shostakovitch, the French modernists, and Charles Mingus. Mr. Wilkes currently studies at the University of Delaware in pursuit of the Master of Music in Clarinet Performance.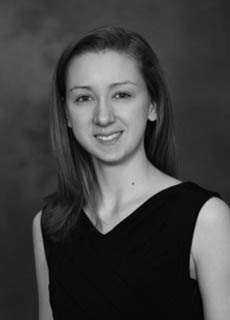 Stephanie Bonk, violin, is a Senior honors student at Exeter Township Senior High School. She has been studying violin for nine years, currently with Sylvia Ahramjian, who she has been studying with for 7 years, and Dr. Timothy Schwarz. In addition to being concertmistress in her high school orchestra, Stephanie is concertmistress of the Philadelphia Sinfonia Chamber Orchestra and Philadelphia Sinfonia Orchestra, and is first violin in the Philadelphia Sinfonia Piano Quintet. In 2014 and 2015, Stephanie won top prize in the Reading Symphony Orchestra League Competition and placed second in the Atonement Bach Competition. She has received numerous scholarships and 1st place awards from the Reading Musical Foundation and has also been offered a Starling Scholarship at Temple Music-Prep. Stephanie soloed with the Millersville University Orchestra and Reading Symphony Youth Orchestra and won the Allentown Symphony Orchestra's Voorhees Concerto Competition in May 2015. Last summer she attended the Northern Lights Music Festival, where she won the concerto competition and soloed with the Northern Lights Orchestra, and Techne Music Camp. Next year, she hopes to attend a conservatory to prepare for a career in violin performance.
2014 Concerto Competition Winners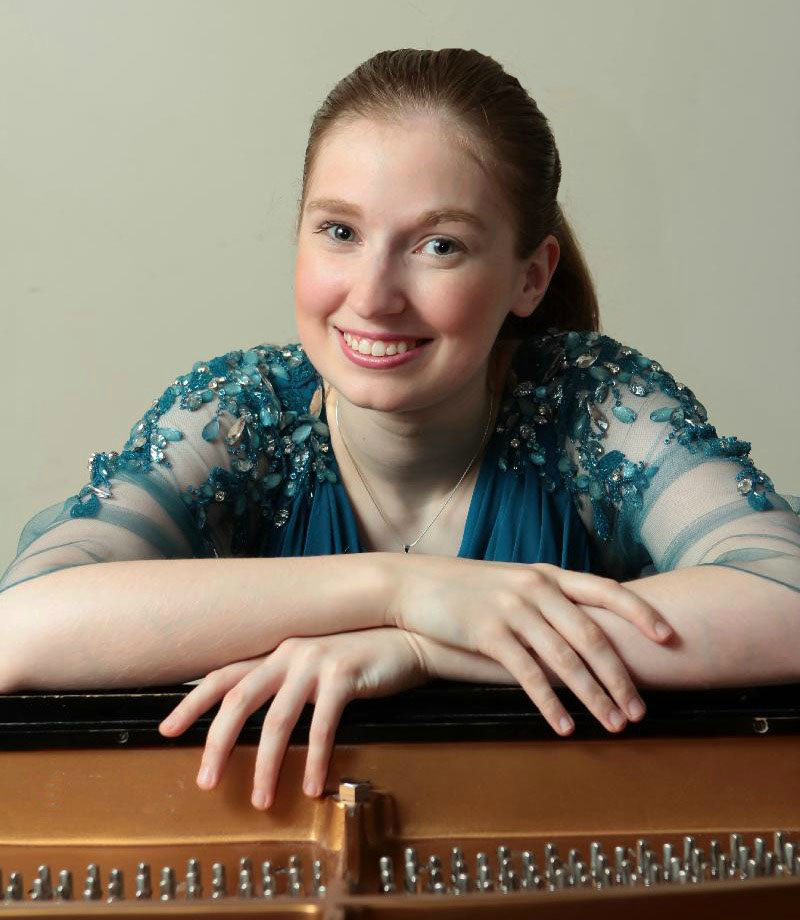 Award-winning pianist and composer Jennifer Nicole Campbell appears as concerto soloist, chamber musician and recitalist in the mid-Atlantic US and Europe. Described as a "sensitive colorist and intelligent musician" (New York Concert Review), she has performed at notable halls including Lincoln Center, the Academy of Music in Philadelphia, and the Musikhauset Aarhus in Denmark. Her numerous awards include First Prizes in the Rosalyn Tureck International Bach Competition, the 1000 Islands Piano Competition, and the Baltimore Music Club Competition in addition to participating in various other competitions including the Hilton Head Intl. Piano Competition and the New York International Piano Competition. As concerto soloist, Ms. Campbell has performed with the Lansdowne Symphony, the Delaware County Symphony, and the Wilmington Community Orchestra among others.
Also an avid composer, Ms. Campbell's works have been performed by various notable artists such as members of the Philadelphia Orchestra who premiered her Piano Trio No. 1. Her compositions have won the MTNA composition competitions in both Delaware and Pennsylvania, and her solo piano works have been premiered throughout the United States including halls at the University of Miami, the University of Buffalo, Canisius College, and the Peabody Conservatory.
In her academic pursuits, Ms. Campbell was awarded the Presser Scholar Award, the Peabody Alumni Award (as Valedictorian of Peabody's class of 2014), and most recently the Peabody Career Development Grant. She is currently studying for her Masters degree at Peabody Conservatory, studying piano with Brian Ganz and composition with Judah Adashi. She has also worked with Leon Fleisher, Richard Goode, and Seymour Lipkin among others.
For more information please visit her website at: www.jennifernicolecampbell.com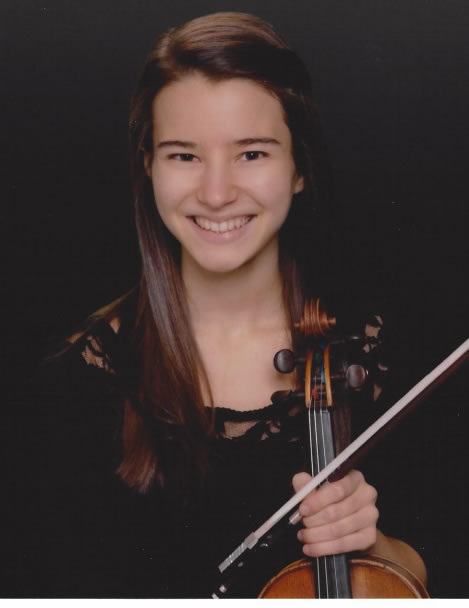 Carolyn Semes is a Distinguished Honor Student at The University Scholars Program at PA Leadership Charter School. She studies with Masao Kawasaki at The Juilliard Pre-College where she has served as Concertmaster of The Pre-College Orchestra. Carolyn has performed as soloist with Temple University Orchestra, The Ambler, Old York Road and Delaware County Symphonies, Philadelphia Orchestra Society, The Ocean City Pops, The Macau Youth Orchestra, as part of their 10th Anniversary celebration, and The Shanghai Philharmonic. Carolyn holds a Snitzer Advanced Studies Scholarship at Settlement Music School. As part of the Snitzer Quartet she has won a prize at The Fischoff National Chamber Music Competition and subsequently appeared on "From The Top". For the past 7 summers she has attended the Aspen Music Festival.